About Gault Plant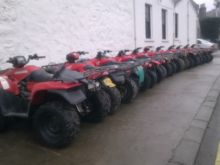 Based in Bellanaleck Co Fermanagh, Gault Quad and Trailer Centre was established in 1992 and is a family run business. It was initially set up by brothers Samuel and David and joined later by their father Kenneth in 1998.
All key people within the family team have a good technical background, Samuel initially trained as a mechanic reaching Supervisor/ assessor status within the Institute of the Motor Industry and Institute of Road Transport Engineers. This combined with his degree in Business Studies has ensured his capability to run the business successfully. David completed studies at the College of Agriculture in Enniskillen. Kenneth, with his previous technical responsibilities as Workshop Supervisor with the Post Office and BT then continued on to gain qualifications with the Institute of Road Transport Engineers and the Institute of the Motor Industry. This experience is extremely valuable for the daily running of the repair/service department within the business.
Therefore at Gaults when you purchase your quads or trailers you can buy with confidence knowing there is a high quality after sales service and everyone will genuinely try to sort out a query or problem of any kind.
The firm initially started out selling second trailers and quads and gradually progressed to selling new machines, now after a number of years of hard work and determination, several good agencies have been acquired and therefore a great range of quality products are not available to our customers.